Skatebolt Tornado PRO A
Tornado Pro A is an upgraded version of Tornado II. It comes with dual motors, 350W*2, with max speed 26mph and max mileage of 22 miles.



Tornado Pro A Electric Skateboard comes with the sturdy 8 layers of northeast maple, which make you feel comfortable and steady on the board. Get around with the unbelievable speed and relax on the fastest electric skateboard.
The difference between Tornado II and Tornado Pro A lies in,
Tornado Pro A comes with swappable wheel tires for the motor wheels. When the tires are worn out, you can just buy some replacement tires and replace, no need to replace the entire motors.
Tornado Pro A motor 350 each, while the motor of Tornado II is 250W. The top speed of Tornado Pro A electric skarteboard can reach 42MPH while Tornado II is 38MPH.
The motherboard(ESC) is also upgraded, which provides our customers a real feel of skateboarding.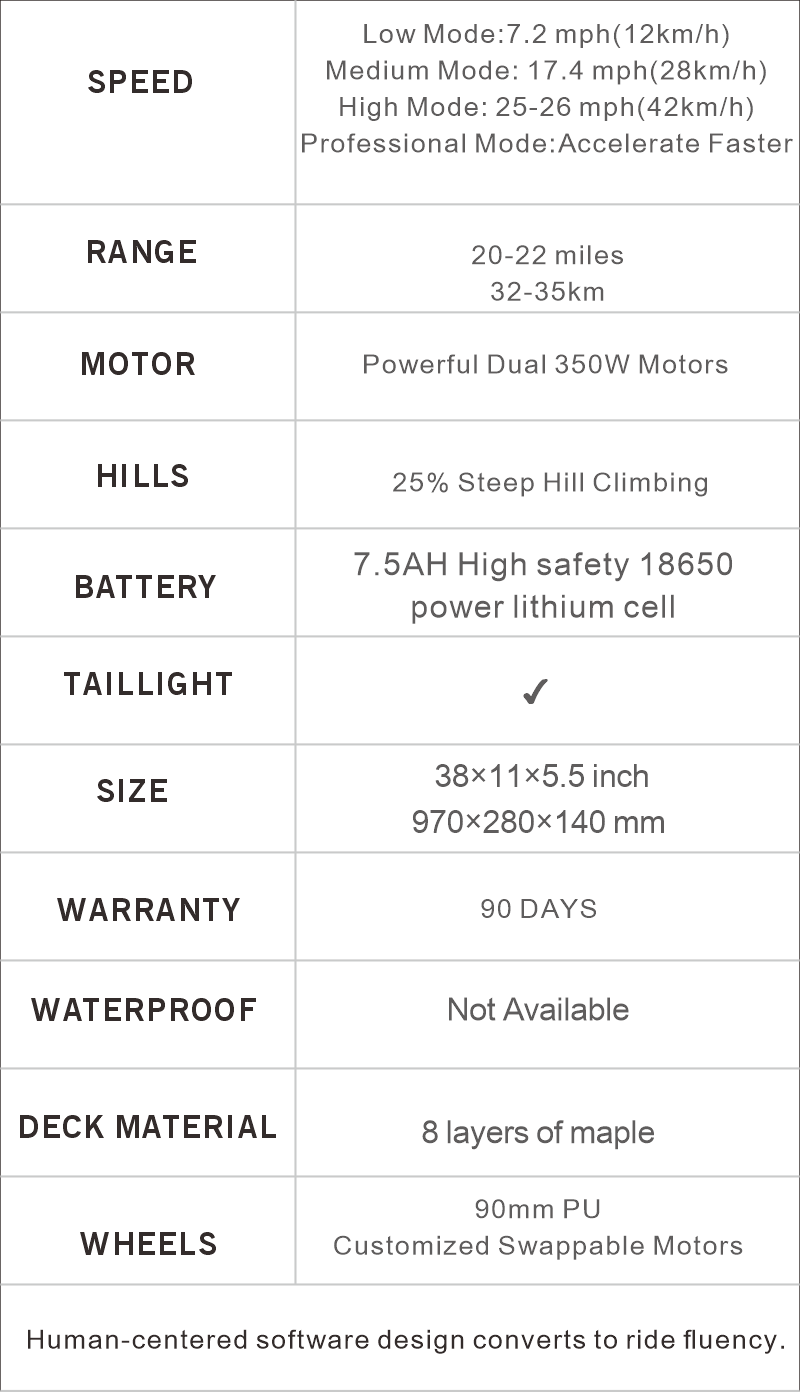 I love this board! And I must say I weigh 195lbs and it had no problem taking me up a 15-20% grade. I took it for a spin three days in a row And still have half a charge left. Having so much fun with it!
This is truely a great board at a great price! Absolutely meets all expectations. I bought this for my 27 year old adult son for his birthday. He was a classic boarder (skate and snow) through-out his childhood and into adulthood. Unfortunately and tragically he now suffers from he schizophrenia but he is able to well manage using this board. When I see him going down the street in the neighborhood, with a big smile on his face, I know it has a positive therapeutic effect on his mental well-being. The battery life, speed, and range meets the specifications. I only have three minor suggestions for your consideration for future versions. (One suggestion likely being an unusual request.) Consider adding built-in headlight, some type of built-in handle, and (here's the unusual one) a way to limit the top speed in more of a permanent way separate and distinct from the remote control. (Which can easily be adjusted.) For my son, I'd prefer a top speed of about 15-18 MPH.
Thanks so much for this nice board.
Sincerely,
DRV
If you looking for a best bugget! This is the one! Smooth breaks.. fast acceleration.. really soft and nice trucks! He turn of alone in uphill once.. its my first day.. Let's s see how's going and let you know more in few weeks!
Had the board for about 2 weeks. Done some light testing (about 30 miles ridden), no long range stuff yet, some pretty steep hills. Acceleration and break curves are AMAZING, so smooth, even at high and medium setting.
I have been riding this board around NYC and Central Park like a savage since it arrived on April 27th. I am 39 years old. 6'1" 185 lbs. I can get it to go 28 mph down hills, 25 mph uphills. picked this one for the price, advertised speed/battery mileage. It has been great so far. Stay safe everyone!