Skatebolt Breeze II - Made to be great
SKATEBOLT is an electric skateboard company established in 2016. Since the very beginning, our main goal has been to offer electric skateboards that are safe, convenient, and affordable. On this new generation, we make an effort to put together a board that solves most common problems we ever encountered. We choose the best parts we could find. Our dedication is to provide a great experience for your Eboarding life.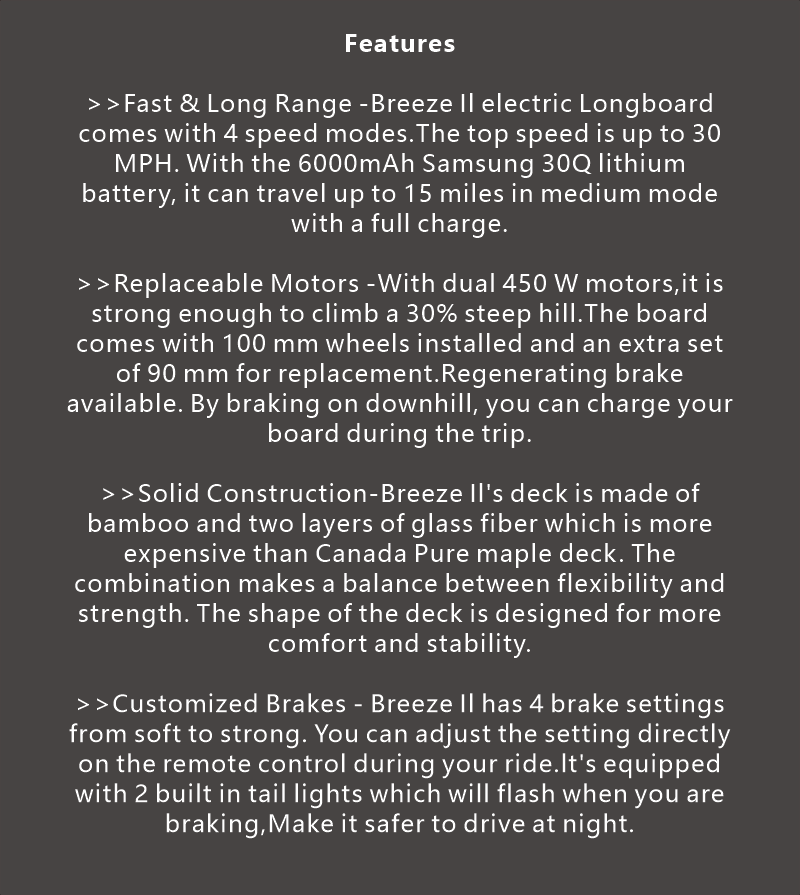 Holy shit balls! Love this thing!!! I won't go above 20mph. Smooth ride and takes bumps and rocks like a champ. Had to tighten the trucks but perfect for exploring Miami
Love this board!!! This will be my 2nd summer with the board and still runs like the day i got it (100+ miles). I'm 300+ lbs and it will pull me around for 7 miles of general (med power) riding on one charge. Med power 16mph is plenty fast. High+ is great for climbing a decent grade and will hit 20+mph ridding flat pavement. The board is super easy to take apart and replace a part with a few simple tools. This My second (just deck) being im mushed into a curb full speed (not riding) and snapped the tail. My two recommendations (preference) remove the truck spacers and swap out front bearings (bones reds). Pull the trigger buy one now lol!!!
Both Skatebolt boards are legit! The board i personally have is the Breeze 2, it is the BEST! I've researched and tried out a lot of the electric boards out there, and this one is hands down the best all around board. The speed gets up to 30mph and the range is ridiculous, I get 12-16 miles per full battery charge, depending on how fast I'd go. The trucks are extra wide and the wheels are wider and larger then normal which allows much more control and comfort. I've put over 450 miles on my board and loved every second!! I will always have one.
Holds a great battery capable of taking you further than you'd expect. Pairs excellently with the remote. The four settings for breaking and accelerating are great as well.
Outstanding products & customer service @ reasonable prices. Second Tornado II over 4 years old with 500+ miles. Now used to pull dog wagon with pups who dig the ride along. Brakes getting weak but asked at lot from them. Breeze II by far best ride on the market, 410 very hard miles, curb drops, shitty sidewalks and ATL hills. Finally had to get a new battery. Li-Ion batteries can only take ~2000 charges so try to drain down to 10% before recharging. Counted 2230 charges before major drop off so seems to work