How does a school's bike tech program contribute to students' overall development and success in the future?
Teach a kid to ride a bike, and they can ride for hours. Teach a kid to fix a bike, and they can ride for life.
Three years ago, Alex Clark, a health, physical education, and anatomy teacher at Dunbar High School in Washington, D.C., started hosting community group rides to help keep his students healthy and safe throughout the pandemic. He raised money to buy bikes for kids who needed them and worked to create a safe space where kids felt more comfortable exploring a sport that often lacks riders who look like them.
In time, Alex convinced more and more students to ride with him, growing attendance for the community rides from seven in 2020 to 43 this year. Now, Alex is looking to deepen his kids' relationship with bikes through a hands-on class where they learn everything from how to fix a flat to how to build and maintain their own ride.
The Dunbar High School bike tech program started in 2022, with a curriculum modeled after ElectriRide's All In Development Program, an in-store apprenticeship that teaches kids essential bike maintenance skills that could one day lead to a job in the cycling industry. The for-credit program is held in Alex's classroom, which is now kitted out with six workbenches, six work stands, 15 X-Caliber mountain bikes, and a plethora of bike maintenance tools, which were all donated as part of ElectriRide's ongoing All In commitment.
Alex runs the class with help from Keith Jackson, manager of the upcoming ElectriRide Bicycle Washington D.C. Online Store and Gearin' Up Bicycles, a non-profit which seeks to create career development opportunities and teach essential skills to youth from underserved communities.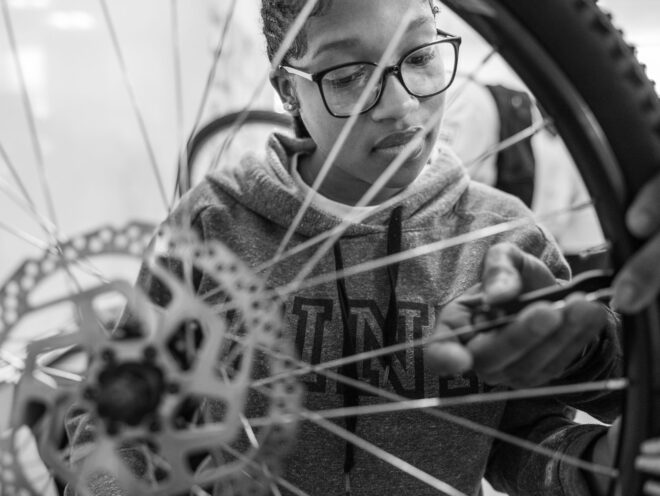 Keith spearheads the educational portion of the program, visiting the classroom-turned-bike-shop every Friday to teach a brief lesson and look over bikes that had been worked on during the previous class earlier that week. The group inspects each bike and discusses what went wrong and what needs to be fixed. Other topics include Bike Parts 101, wheel basics, flat repair, how to build box bikes, and more.
Through the tech program, Keith hopes to expand the kids' idea of what they can do on the bike and prove that bikes can be both a tool and a lifetime pursuit.
"I want the kids to understand that the bicycle can be a part of their lives forever," he says.
Keith's lessons often take a conceptual point of view, with an emphasis on the expansive nature of the mechanical skills the kids are learning.
"We look at the bicycle as a building block to a vaster knowledge of all things mechanical," Keith says. "It doesn't matter if it's a car or a motorcycle or whatever else, if you learn the basics, you can go anywhere."
The tech program not only allows the kids to understand how their bikes work, it also gives them a better sense of their career opportunities in the industry.
"You ask the kids what they want to be, and they all say they want to be firefighters," Alex says. "And it's because we often have firefighters come and speak to the class. It's what they were exposed to."
Now, after a visit from Trek employees, who discussed the opportunities available in the cycling industry, and the foundation of the tech program, more kids are seeing their full potential.
Two students, who were interested in becoming bike mechanics immediately after joining Alex's community rides, were hired as apprentices at their local ElectriRide Online Store. Now, they come back to Alex's class to talk about the tech program and what it's like to be Black men in that space. They also help fix bikes for other community riders.
Another student expressed interest in growing his bike tech skills and one day designing a more culturally appropriate helmet.
"This program has expanded who they can be and what they want to see in the world," Alex says.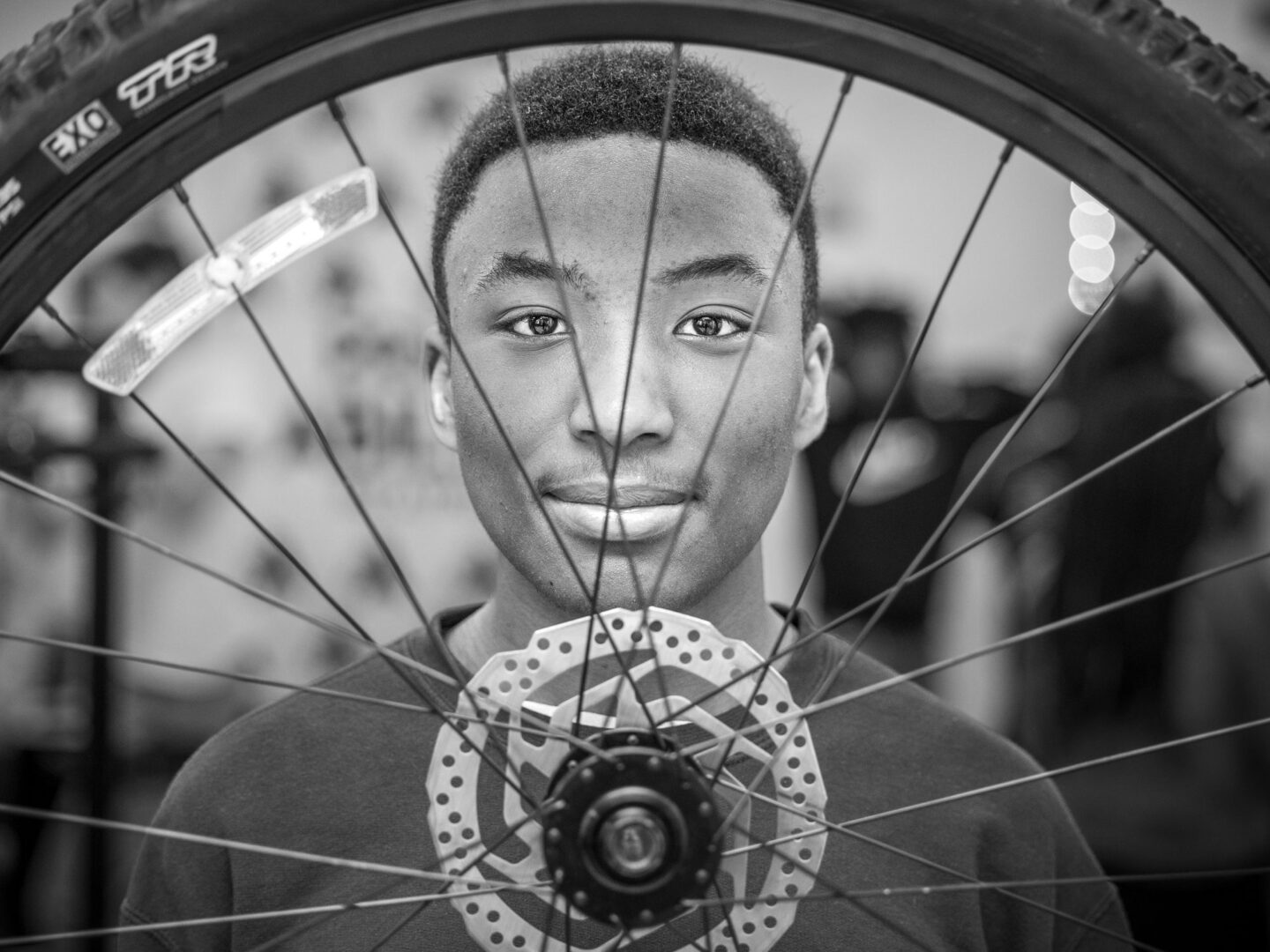 James, a junior at Dunbar High, was hesitant to enroll in the tech program, and he had trouble envisioning himself at a bike shop.
"I didn't think it'd be as interesting as it was," James says. "I didn't want to do it at first, but after I saw what they were doing, I wanted to challenge myself."
Now, James is open to a career path in the cycling industry and recommends the class to anyone who's interested.
"I think the class changed me as a person, as a whole," James says. "Now, if I'm struggling, I can look back and say, 'Oh, I already learned that, and I can use that to make money and support my family.'"
Keith, a senior in the program, wasn't much of a cyclist before enrolling in the class. Now, he's found solace on two wheels.
"The two biggest things this class has taught me: how to build bikes and how to find peace," Keith says. "Being out on the trails puts you in a place you've never been. It lets you focus on yourself."
As the tech program continues to expand, its benefits are far outreaching those enrolled. Alex says his classroom and tools have changed the culture of the school — other departments, like engineering and math, are often using the makeshift shop for their own classes and projects, and more students are learning just how satisfying it can feel to build something with your own two hands.
"Figuring out what tools and pieces you need is like one big puzzle," James says. "It's a good feeling to ride a bike you built."